About Us > Charlene Sagoe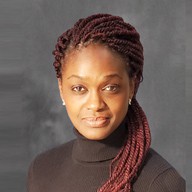 Intl Head of Diversity, Equity & Inclusion, Natixis Investment Managers
Charlene Sagoe was born in Liberia, West Africa, and spent her early years in Romania where her father served as a foreign diplomat for the Liberian Embassy. Her family moved to London in 1983 where her father continued his diplomatic mission.
Charlene began her professional career in Broadcast Media working in middle and senior management roles with a number of international broadcasters including' the Sci-Fi Channel, National Geographic Channel and Sky.
Charlene took the decision to move into financial services to bring the marketing experience gained from a very creative and fast-paced industry into the heavily regulated industry that is Financial Services. She believed this would further challenge her; demonstrate that her marketing skills were transferable, and bring a different perspective combined with challenging the status quo in the financial services sector.
Charlene started her career in Financial Services with Communication Workers Friendly Society (CWFS), which provided life and savings products for people in lower income groups. She went on to secure a contract role with Legal & General in the Banks and Building Society division before moving into Asset Management when she joined Natixis in 2008. Here, Charlene has held several roles with a global remit in all areas of the marketing communications and PR. Over the last 4 years, Charlene has been Head of Digital Marketing and will continue in this role in the near term while taking on her new role as Head of Diversity & Inclusion