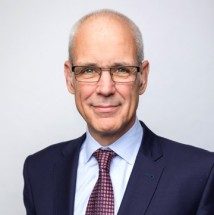 President and Chief Executive Officer, OPTrust
Peter Lindley is President and CEO of OPTrust, one of Canada's largest defined benefit pension plans with offices in Toronto, London and Sydney.
Since joining OPTrust in 2019, Peter reprioritized the organization's Strategic Plan and increased focus on the Plan's members. He has also emphasized Diversity and Inclusion, as demonstrated by achieving gender parity in the Executive Team. He established OPTrust's new Sustainable Investing and Innovation (SSI) department, giving it a mandate to capitalize on investment opportunities across asset classes in support of sustainability and green investment.
A financial services industry veteran with over 30 years of experience in strategy, investments, and leading high-performance teams. Peter is a strong advocate for defined benefit pensions and responsible investing. Prior to joining OPTrust, Peter served as President and Head of Investments at State Street Global Advisors, where he was responsible for the firm's overall Canadian business strategy. He has also held senior roles at Deutsche Bank and CIBC World Markets in Toronto, and worked in the United Kingdom for the Industrial Bank of Japan and Security Pacific.
Peter obtained a Bachelor of Engineering from the University of Leicester, U.K. and a Bachelor of Education from the University of Toronto.