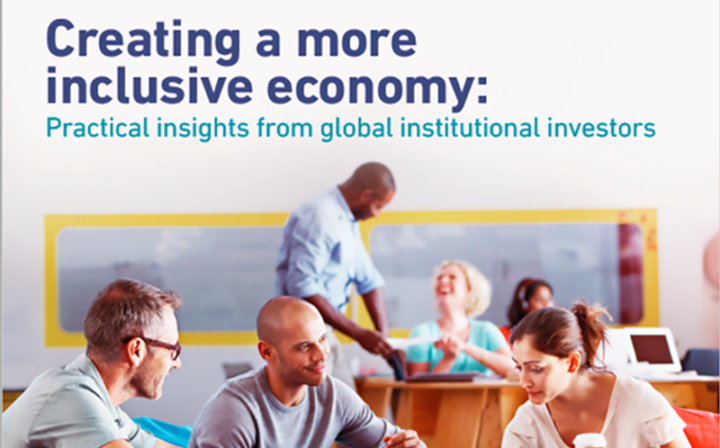 Investor Leadership Network launches 'state of the industry' report on equity, diversity and inclusion.
The Investor Leadership Network (ILN) today released its latest report, Creating a More Inclusive Economy: Practical insights from global institutional investors. The report provides an assessment of institutional investors' best practices, challenges, and opportunities in equity, diversity and inclusion (EDI), both internally as employers and externally as active asset managers and owners.
The report has been developed in partnership with EY and Diversio, as part of the ILN's Diversity in Investment initiative, which aims at increasing the presence of diverse talent in investment and management roles in the financial industry by developing concrete tools and resources and helping investors address the widening scope of the 'Social' in 'Environmental, Social, and Governance.'
Recognizing that the lack of standardization of reporting standards, and limited access to high quality data pose significant challenges, this new release provides investors with current approaches to diversity-lens investing and internal culture change by identifying areas for alignment on reporting standards, required data, and levels of engagement on EDI internally and with portfolio companies. The ILN will use this first report to create a pre-eminent Inclusive Finance Platform, designed to help investors and companies speed the transition to a more inclusive economy.
Amy Hepburn, CEO of the ILN Secretariat, commented: "This report is just the tip of the iceberg for the ILN's engagement around equity, diversity and inclusion. By taking inventory of where ILN members currently land in their EDI journeys, we can now move forward together to support the entire industry in our goal to advance inclusion across all identities."
François Crémet, Co-Lead of the Diversity in Investment Initiative and Senior Director of Stewardship Investing at CDPQ, said, "By collaborating on this report, our organizations have shown that they can have a meaningful impact when they join forces towards a shared goal. As we continue on our journey together, our aim is to expand our focus on equity, diversity and inclusion and to be a catalyst for culture change across the industry."
Tracey Flaherty, Co-Lead of the Diversity in Investment Initiative and Global Head of Corporate Social Responsibility and Public Affairs at Natixis Investment Managers, added, "This report signifies a commitment by the ILN and its members to be leaders on the social elements of ESG, which have risen in prominence among companies and investors. Working together, we believe we can facilitate a dialog within the investment community and the capital markets that helps accelerate advances in equity, diversity and inclusion."
The ILN believes investors are uniquely positioned to lead the effort towards an inclusive and sustainable transition and will continue to drive collective action and concrete solutions. Further equity, diversity and inclusion investor tools will follow later this year.