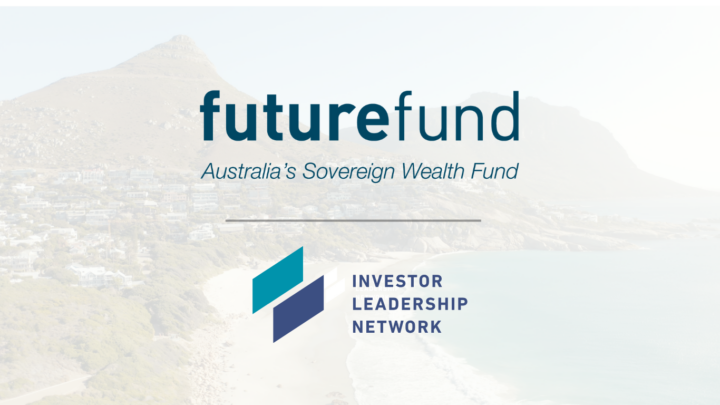 Toronto, September 27, 2023 – The Investor Leadership Network (ILN) announced today that the Future Fund, Australia's sovereign wealth fund, has officially joined the esteemed group of global institutional investors, effective immediately.
The Future Fund brings a substantial portfolio of US$166 billion in net assets under management to the ILN's collective total of $10 trillion, as well as a strong track record in driving long-term, sustainable and responsible investment strategies.
The Future Fund's commitment to investing for the benefit of future generations of Australians intersects fluently with ILN's mission to accelerate the transition to a sustainable and inclusive global economy. The Fund's long-term investment focus and expertise in integrating sustainability factors into its investment approach will strengthen the ILN's efforts in pursuing its core pillars, specifically: climate change; diversity, equity and inclusion; and private capital mobilization.
"We are thrilled to welcome the Future Fund to the Investor Leadership Network and excited to have such an impressive and influential investment institution join our ranks," stated Amy Hepburn, CEO of the ILN. "The Future Fund's role as a sovereign wealth fund, and its substantial financial prowess and new geographic perspective will be an extremely valuable addition to our Network and will undoubtedly enrich our collective efforts in promoting positive change and accelerating the transition to a more sustainable global economy."
"We are honored to become a member of the Investor Leadership Network, and we recognize the collective strength and potential of this collaboration," said Will Hetherton, Head of Corporate Affairs at the Future Fund.
"At the Future Fund, we firmly believe that thoughtful investment practices can drive positive outcomes and strong risk-adjusted returns over the long term. Joining the ILN offers us an incredible opportunity to collaborate with like-minded investors and advance our shared vision of a sustainable and inclusive future."
With the Future Fund's addition, the ILN continues to grow as a unified force of leading institutional investors committed to advancing sustainability and driving meaningful change on a global scale. The collaborative efforts of ILN members holds the potential to shape the investment landscape, encourage sustainable practices, and make a positive impact on the pressing challenges facing the world today.
"We look forward to working closely with the Future Fund and leveraging their expertise to drive tangible progress across our focus areas," added Amy Hepburn. "Together, we will pave the way for a more resilient and sustainable economy, and we welcome the Future Fund's contributions to this critical mission."
About Investor Leadership Network (ILN):
The Investor Leadership Network was launched at the 2018 G7 to facilitate and accelerate collaboration by leading institutional investors to drive the transition to a sustainable and inclusive global economy. As the leading network of investors taking action for people, planet and prosperity, the CEO-led group is composed of 13 global institutional investors representative of seven countries, with over US$10 trillion in assets under management.
Operating as an open and collaborative platform, members pool resources, expertise, and networks to develop, promote and deliver action-based and scalable initiatives on major global issues such as climate change; equity, diversity and inclusion; and private capital mobilization. Every initiative is evidence-based, measurable, and drives macro change. Member commitment is leveraged through a central convening body, the Secretariat, that threads the needle among initiatives and tracks and reports impact.
About the Future Fund:
The Future Fund is Australia's sovereign wealth fund. Its purpose is to invest for the benefit of future generations of Australians.
Established in 2006 to strengthen the Australian Commonwealth Government's long-term financial position, today the Future Fund stands at over US$133 billion and is the country's single-largest financial asset.
The organisation also manages an additional five special purpose public funds with a combined value of over US$32 billion: the Medical Research Future Fund, the DisabilityCare Australia Fund, the Aboriginal and Torres Strait Islander Land and Sea Future Fund, the Future Drought Fund and the Disaster Ready Fund.
Contact: Steve Kee, Global Communications Director, Investor Leadership Network, steve@investorleadershipnetwork.org, 416-841-5669.