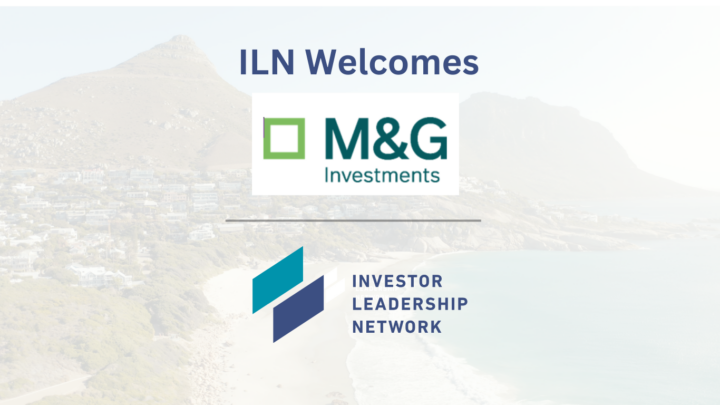 Toronto, October 2, 2023 – The Investor Leadership Network (ILN) announced today that M&G – an international savings and investment company based in the UK, whose purpose is to help people manage and grow their investments responsibly – has officially joined the esteemed group of global institutional investors, effective immediately.
M&G brings a substantial portfolio of £332.8 billion of assets under management to ILN's collective total of $10 trillion, as well as a strong commitment to sustainable and responsible investment. With a focus on transparency, stewardship, and long-term value creation, M&G's partnership with ILN amplifies their shared efforts to promote sustainable financial practices, advocate for positive corporate behavior, and foster a more inclusive and sustainable global economy. The firm's exceptional expertise in integrating sustainability factors into its investment practices will strengthen the ILN's efforts in pursuing its core pillars, specifically climate change and diversity, equality, and inclusion.
"We are thrilled to welcome M&G to the Investor Leadership Network and excited to have such an impressive and influential firm join our ranks," stated Amy Hepburn, CEO of the ILN. "M&G's resolute commitment to sustainability, investment expertise, and diverse insights will significantly enrich our collective endeavors. Their addition not only bolsters the Network's strength but also enhances our joint mission of catalyzing positive transformation and expediting the shift towards a more sustainable global economy."
"We are proud to become a member of the Investor Leadership Network and recognize the collective strength and potential of this collaboration," said Joseph Pinto, Chief Executive of M&G Asset Management. "We believe that sustainable investment methodologies will steer us towards favorable results and create enduring value across all stakeholders. Our entry into ILN presents an exceptional opportunity to partner with like-minded investors and drive forward our shared aspiration for a future that embodies sustainability and inclusivity."
M&G's membership in the ILN strengthens the organization's collective endeavors and potential to mold the investment landscape, promote enduring sustainable practices, and drive constructive change in response to the urgent global challenges.
Amy Hepburn added, "We are looking forward to working with M&G and using their expertise to propel concrete advancements across our initiatives as we chart a course toward an economy that is both robust and sustainable. We extend a warm welcome to M&G's and their contributions to this pivotal mission."
About Investor Leadership Network (ILN):
The Investor Leadership Network was launched at the 2018 G7 to facilitate and accelerate collaboration by leading institutional investors to drive the transition to a sustainable and inclusive global economy. As the leading network of investors taking action for people, planet and prosperity, the CEO-led group is composed of 14 global institutional investors representative of seven countries, with over US$10 trillion in assets under management.
Operating as an open and collaborative platform, members pool resources, expertise, and networks to develop, promote and deliver action-based and scalable initiatives on major global issues such as climate change; equality, diversity, and inclusion; and private capital mobilization. Every initiative is evidence-based, measurable, and drives macro change. Member commitment is leveraged through a central convening body, the Secretariat, that threads the needle among initiatives and tracks and reports impact.
About M&G:
About M&G plc M&G plc is an international savings and investments business, managing money for around 5 million retail customers and more than 800 institutional clients in 28 markets. As at 30 June 2023, we had £332.8 billion of assets under management and administration. Our purpose is to help people manage and grow their savings and investments responsibly. With a heritage dating back more than 170 years, M&G plc has a long history of innovation in savings and investments, combining asset management and insurance expertise to offer a wide range of solutions. We serve our savings and insurance customers under the Prudential brand in the UK and Europe, and under the M&G Investments brand for asset management clients globally.
Contact: Steve Kee, Global Communications Director, Investor Leadership Network, steve@investorleadershipnetwork.org, 416-841-5669.