LONDON | May 13, 2022–– The Investor Leadership Network (ILN) joined the Sustainable Markets Initiative's CEO Summit this week to discuss the transition to a sustainable economy with other CEOs and global leaders.
The Prince of Wales's Sustainable Markets Initiative (SMI), a coalition of businesses committed to advancing sustainability, held its CEO Summit on May 9th and 10th at London's royal palaces. The event brought together over 100 CEOs of some of the world's largest businesses and financial institutions to discuss sector-specific climate strategies. Several members of the ILN's CEO Council attended to share both their progress and their greatest challenges in advancing the green transition. 
Tangential to the SMI CEO Summit, the ILN and SMI hosted a Blended Finance Roundtable with United States Special Presidential Envoy for Climate John Kerry at the United States Embassy in London. The meeting convened institutional investors, development finance institutions, global foundations, and family offices to discuss the opportunity and obstacles for increasing blended finance with Secretary Kerry. 
Cross-sectoral dialogues like these are part of ILN's Sustainable Investments in Emerging Markets initiative, which aims to increase the flow of private capital into sustainable investments in emerging and frontier countries. This roundtable was the first of several that will be held this year to establish new blended financing frameworks for global sustainable development.
Amy Hepburn, CEO of the ILN Secretariat said, "It's always an honor to have the opportunity to engage with global business and governmental leaders on how to collaborate toward a sustainable transition. When we convene so many power players in one room, we are able to truly build momentum. I'm proud of our ILN members and partners for showing up to these conversations and thinking innovatively about how to close the SDG funding gap with the most speed and impact."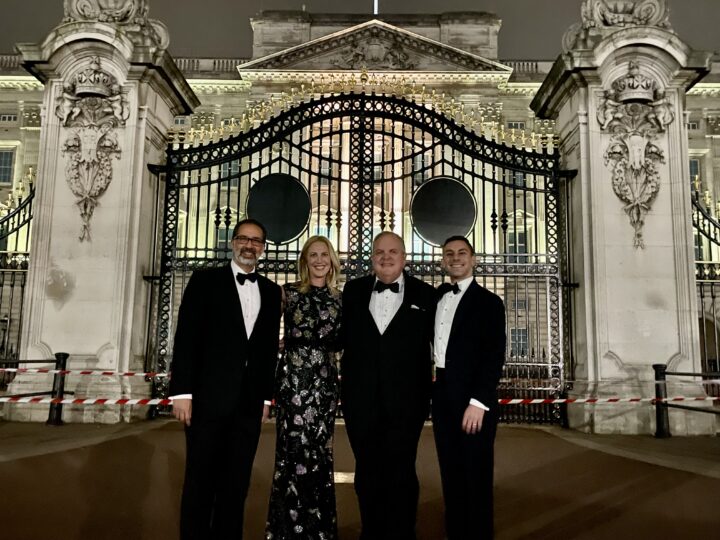 Pictured: Cyrus Taraporevala, CEO of State Street Global Advisors, Amy Hepburn, CEO of the ILN, Ron O'Hanley, CEO of State Street, and Nick Autiello, Head of Sustainable Finance at the Sustainable Markets Initiative pose outside of Buckingham Palace.